OKUIZOME is a ceremony held after 100 https://phonelookupbase.ca , 110 or 120 days after a baby's birth. In this ceremony,
the baby is made to pretend eating a meal with its parents' to give hope the newborn will never
need to worry about food during its lifetime.
The menu consists of one soup, three main and two side dishes.
There's a meaning behind each dishes.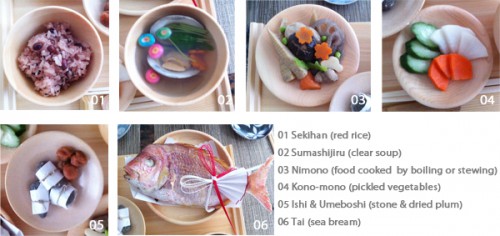 01 Sekihan is red beans with sticky rice.
Since ancient times, the red color has been believed to have the power to purge evil spirits.
02 Clam is often used to Sumashijiru because of making good match.
03 Nimono open use lotus root, taros and bamboo shoots.
Lotus roots means to see through the future.taros means children and bamboo shoots means
to grow up tall and upright.
04 Kono-mono use red and white color vegetables.
05 Stone means to have strong teeth like stone.
Umeboshi means to live long until getting wrinkles.
06 Tai is a symbol of wealth and prosperity. Served with head and tail intact.